About Philadelphia Street Sweeping
Sweeping Corp of America is the largest professional self-performing power sweeping and jetvac services company in the United States. With 70 locations throughout 21 states (and growing!), Sweeping Corp of America provides reliable, efficient, and detailed street sweeping and washing services throughout Philadelphia and Central Pennsylvania that keeps the city looking beautiful. 
From sweeping parking lots, clearing highways, cleaning a quiet street, or clearing out debris after construction and events, our Philadelphia street sweeping services are unparalleled. Our fleet is here to keep your space looking great and your city's pollution down.
Philadelphia Municipal Street Sweeping
If you're a municipality or even a local government, you know that keeping your streets clean and free of debris can be an ongoing struggle in the Philadelphia, PA area. In addition to the challenge of keeping your streets clean, you also face the task of finding an economical way to fulfill this demand. Sweeping Corp provides solutions that provide top notch customer service and help you prioritize your local street sweeping needs. We provide plans that sweep at the appropriate frequency and also provide the right equipment to meet the needs and demand of the greater Philadelphia County area.
Philadelphia Sweeping Main Services
We offer extensive street sweeping and street washing services in Philadelphia and throughout all of Pennsylvania. Our clients rely on us to clean everything from a quiet street to a busy highway. 
Using state-of-the-art equipment, we provide a wide range of street sweeping services providing Departments of Transportation (DOTs), cities, and contractors with environmentally conscious solutions that reduce pollution and keep every street as clean as possible.
Streets and Highways

Parking lots

Garage facilities

Construction sites

Industrial and manufacturing facilities

Milling and paving

Special events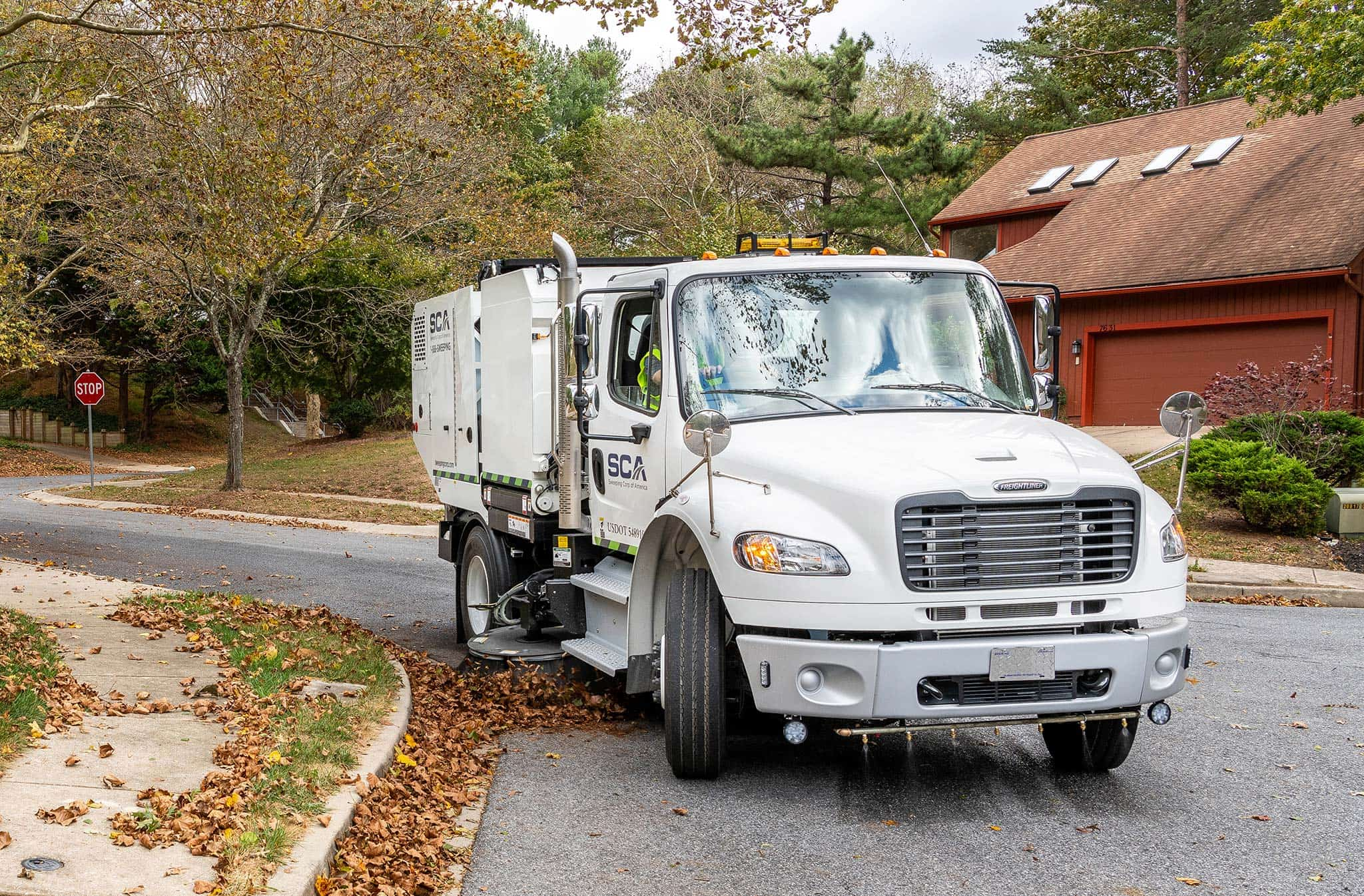 Parking Lot and Parking Garage Sweeping in Philadelphia
Creating a clean environment in your parking lots makes a great first impression on your customers. We offer parking lot and garage facility sweeping in Philadelphia, PA according to your needs and your schedule. Sweeping Corp of America is committed to keeping your private and public parking areas clean, all while being environmentally conscious of stormwater runoff and extending the life of your parking surface. 
Our state-of-the-art street sweeping vehicles can quickly remove trash and debris from your parking areas, washing quickly and effectively while still following EPA guidelines. We provide cleaning for over 1,000 parking lots each year and have flexible scheduling around the clock. We guarantee vehicle availability with a fast and reliable response time to keep your street as clean as possible. Our unparalleled operator experience and training guarantee our service and your satisfaction. 

Surrounding Philadelphia, PA Areas Serviced
Philadelphia is steeped in history, not only is it one of the oldest cities in the U.S., but it was also the site of many historical events and for ten years was the capital of the United States. Philadelphia was also the first city in the U.S. to have a library, a zoo, a hospital and the first modern skyscraper. There are more than 80 colleges in the Philly area, including the University of Pennsylvania, which claims to be the first college in the country. Of course, Philadelphia is home to many historical sites related to the revolutionary war and the founding of the country but there are other historical sites that are not as prominent including the home of Edgar Allan Poe. Philadelphia museums include eight art museums, six science museums, dozens of history museums, a puppet museum, and a doll museum.
SCA Proudly services these cities near Philadelphia: Camden, Yeadon, Gloucester City, Darby, Collingswood & Pennsauken.
Job Openings with Sweeping Corporation of America in Philadelphia, Pennsylvania
Sweeping Corporation of America is hiring! Our locations across the country have job openings for positions including street sweeper operators, mechanics and diesel mechanics, driver helpers, and shop helpers. At Sweeping Corporation of America, we offer a full benefits package (medical, dental, vision, and 401k), paid vacation and holidays, and convenient direct deposit for your weekly paycheck. Job offerings differ from location to location, so if you're seeking employment in Philadelphia, PA or nearby areas, check our current job openings for Philadelphia and see if we have what you're looking for.